Gamea Revo - Features & Functions
Item #: Gamea Revo features
Guru's Choice Gamea Revo fully automatic espresso machine - Operated, programmed & maintained by advanced Touch screen technology.

Gamea is designed with 20% fewer parts. Following parts that most commonly malfunction are eliminated:

1- Solenoid valves replaces the traditional steam valve & knob. Steam valve in most popular models is an assembly with 18 to 28 components and operated by an external knob. Manual usage of knob and high temperature of steam causes the O-rings & tube connections to leak. In Gamea Revo the steam valve & knob is replaced by durable and commercial grade Solenoid valve.
2- Function buttons (Push type or rocker style) have been replaced by APP style Function Icons on a Touch screen.
3- On-Off switch has been eliminated. Machine turns on with lighted Touch screen when machine is plugged into electric outlet. It will turn itself off if screen (Or machine) is not used for One hour. The Touch screen remain lighted in the Off mode with a single large fuming cup of coffee on the screen. the functions are activated & displayed with a simple touch of the screen (Like a Cell phone is activated by a simple Touch on the screen).

4- Active Touch screen displays the Function icons (single espresso; double espresso; Hot water & steam). When any function is activated, additional icons appear in the lower end of the screen.
These Icons include:
ESC Icon on the lower right side. ESC Icon is for Cancelling wrong function selection or for terminating or interrupting any function in progress.
Spoon Icon to initiate Pre-ground function selection;
Programming Icon for setting maintenance options like Descaling, Date & Time setting & more.

CLICK HERE for Gamea Demo Video

CLICK HERE for Video Guide on how to Descale Gamea espresso.

Gamea DIMENSIONS: 11 in (W) X 16.75 in (L) X 14.5 in (H)
Beans remain fresh for 4-days when a bag is opened.
We pack Beans in 4-Oz. Bags to keep fresh until consumed

Vacuum sealed roasted beans remain fresh for 2-months.
Our Fresh Roasted Beans include:
50 50 BUZZ, Espresso Bella, Macho & Decaf. beans

Order beans in 4-Oz. bags today. Discover the taste of fresh coffee.
No Refrigeration - No Air-Tight Jars - No Bean-sitting to preserve Freshness.
Experience Fresh Coffee Nirvana. Sooo good to say NO
. . . . . . . . . . . . . . . . . . . . .
We sell the following three Exclusive Best espresso machines:
1- Guru's Choice Gamea Revo Automatic Espresso machine
CLICK HERE for Gamea Demo Video CLICK HERE for Gamea make & model?
20% fewer parts. No Knobs, Buttons or Switcthes.
Program, maintain & Operate with Touch Screen.
Dimensions: LxWxH=16"x11"x15"

2- Saeco Royal O.T. Superautomatic Cappuccino machine
Original Pre 2006 Design - Dimensions: LxWXH=18"x14"x15"

3- Saeco AuLika Top, One Touch machine CLICK HERE for Demo video

Unrivalled choice for Home, Office, Cafeteria, Catering & Vending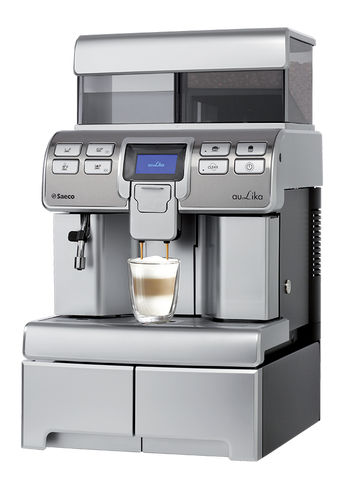 Gamea Revo Silver Gamea Revo Black Royal One Touch Saeco AuLika Top One Touch
Click picture for details. CLICK HERE for Gamea Revo features
These models have changed the way Classic espresso is made
Have questions? E-mail inquiries. sales@partsguru.com