IMS Precision 1 Cup Filter Basket 7/9 grams
Precision 1 Cup Filter Basket 7/9 gramsPrecision 1 cup filter basket for commercial espresso machines. Capacity 7/9 grams of ground coffee.
SHAPE
BORDER: Ø 70 mm (B70)
HEIGHT: 26.5 mm (H26.5)
BODY: Ø 60 mm for Ø 58 mm tamper
RIDGE: external Ø 60,5 mm
SHAPE: truncated cone
with specific corner rounding
Please review the features and dimensions of the filter basket before placing an order.
This precision filter basket fits almost all commercial regular and bottomless 58mm portafilters.
FEATURES
The shape was created by I.M.S. to obtain the proper ratio between the base and height of the coffee puck in relation to capacity. The lower part of the filter has a truncated cone shape. The middle section is connected to the upper body by means of specific corner rounding. This shape has been designed to exploit the whole coffee puck, and to facilitate drying and expulsion.
PERFORATION
I.M.S. perforation is exclusive and patented
PERFORATED AREA: Ø 30 mm
area optimized in relation to the shape of the filter.
NUMBER OF HOLES: 253 Hexagonal Spacing (E)
The number and distribution of the perforations are designed to balance the delivery in relation to the height and shape of the filter and perforated area.
HOLE DIAMETER: 0.30 mm
SHAPE OF THE HOLE: CIRCULAR with CONICAL cross section.
COMPETITION PERFORATION: Relaminated and Recalibrated.
FINISHING
TUMBLING: Wet vibrofinishing with ceramic inserts and drying with corncob
PICKLING: Passivation and preparing of the material
ELECTROPOLISHING: smooth surface with unmatched sanitary and non-contaminating qualities is obtained.
. . . . . . . . . . . . . . . . . . . . . . . .
Saeco's four best fully automatic Italian espresso machines are imported exclusively by Parts Guru. These models make the Best professional choice for purchase. These machines are not sold through Whole Latte Love, Seattle Coffee Gear or by Large Box stores like Costco, Target, William Sonoma, Bloomingdales, Nordstrom, Best Buy, Bed Bath & Beyond, Nieman Marcus, Macys or Amazon.

If you love Coffee
Choose from the Best Machines for Quality, Function & Efficiency
Saeco's four Best models imported exclusively by Parts Guru

We do not compromise on quality - Why should you?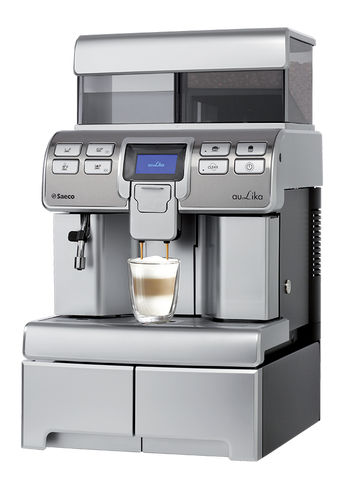 Saeco Lirika Plus Gamea Revo Silver Royal One Touch Saeco AuLika Top O.T

Unlike expensive Jura models, Saeco models have access to brew group for easy to cleaning
Have questions? E-mail inquiries. sales@partsguru.com
1- Saeco SUP041 Lirika bean to cup espresso maker 120V. CLICK HERE for details.
2- Saeco SUP041-EU Lirika One Touch CLICK HERE for details.

3- Saeco HD8930 Royal One Touch Cappuccino machine. CLICK HERE for details.
4- Aulika Top High speed (Made in Italy) models. CLICK HERE for details.
CLICK HERE for Demo video.
5- Gamea Revo with Touch screen. CLICK HERE for details.
CLICK HERE for Gamea Demo video
. . . . . . . . . . . . . . . . . . . .

We sell four Blends of Fresh Roasted Beans
Try one today. Discover the taste of fresh coffee.

Do not settle for 'any' Beans. Be a Beans snob.
. . . . . . . . . . . . . . . . . . . .

We recommend & sell World's Best Zummo juicer
as Zummo juicers have fewer parts, to clean & maintain.
Zummo juicers squeeze 10% more juice than all other juicers.
Zummo juicers have patented Efficient Vertical Squeeze (EVS) system
Zummo juices taste better without any oil & Pesticides from Citrus skin
The squeezing mechanical uses cups like two hands grab the fruit & slice on the blade

Zummo model Z06 Zummo model Z01

CLICK HERE for Zummo Z06 Demo Video
New Profit center for Businesses, Diners, Rentals, Catering & more
Best Values
Related Items