Jura Brew Group Drainage Motor 9V 150 Ohm
Jura Brew Group Drainage Motor 150 Ohm. This motor is using 9V AC (Blue and red wires) and 15V AC Black and Green wires). This motor pushes the water inlet plug to the brew group and allows the hot water in flow to the brew group for making coffee.
Suitable for Jura Impressa & ENA models: ENA 3 - ENA 4 - ENA 5 - ENA 7 - ENA 9 One Touch
J7 - J9 - J9.2 - J9.3 - J9.4 - J85 - J90 - J95 - XJ5 - XJ9 - J80 - J500; Z7 - Z9; 9 Classic - S9 One Touch - XS90 One Touch - XS95 One Touch - XS9 Classic; GIGA X3 - GIGA 5 - GIGA X7
We do not recommend or sell Jura Espresso machines. Click Here to know why?
Philips moved Saeco assembly plant from Italy to Romania in 2006. We do not recommend or sell Philip/Saeco & Gaggia machines made in Romania.
We sell four Blends of Fresh Roasted Beans :
50 50 BUZZ, Espresso Bella, Macho & Decaffienated beans
Try one today. Discover the taste of fresh coffee.

Experience Fresh Coffee Nirvana. Sooo good to say NO
. . . . . . . . . . . . .

Appliance Resellers are welcome to contact us.
We offer Lucrative Resale discount for Home Espresso machines
Call us with Resale Licence number & register as Resellers & Techs.
No delivery. No Installation, No service call &
No warranty worry. We take care of it all.
Please note: We sell three exclusive fully automatic Espresso machines: Gamea Revo, Saeco Royal One Touch Cappuccino (Made in Italy) & Saeco Aulika Top High speed (Made in Italy) models. Philips will not import Royal O.T. or Aulika because these models are well designed & made in Italy. Philips imports plastic junk models made in Romania. We do not promote or sell Philip/Saeco espresso machines made in Romania since 2006.
If you need additional information on machines Made in Italy, please contact us. Machines imported by us are sold by selected dealers in Pennsylvanis, New York, Washington & Ohio. These machines are not sold by Whole Latte Love, Seattle Coffee Gear, Best Buy, Target, William Sonoma, Bloomingdale, Bed Bath & Beyond, Macy or Amazon. The large Box stores know nothing about technical details about the machines they sell.
We sell only the best machines listed below:
1- Guru's Choice Gamea Revo Automatic Espresso machine
The first home espresso machine with Touch Screen Control
CLICK HERE for Gamea Demo Video CLICK HERE for Gamea Revo features
20% fewer parts. No Knobs, Buttons No On-Off Switch.
Dimensions: LxWXH=17"x14"x15"

2- Saeco Royal O.T. Superautomatic Cappuccino machine
Original Pre 2006 Design - Dimensions: LxWXH=18"x14"x15"

3- Saeco AuLika Top, One Touch machine CLICK HERE for Demo video

Unrivalled choice for Home, Office, Cafeteria, Catering & Vending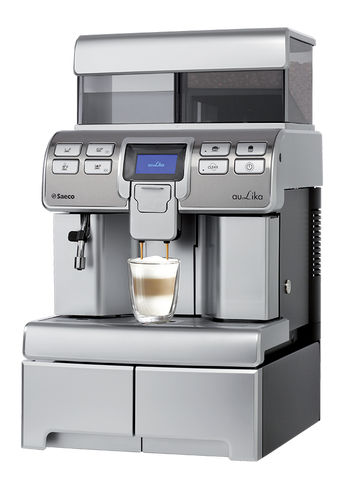 Gamea Revo Silver Gamea Revo Black Royal One Touch Saeco AuLika Top One Touch
Click Here for details.

These Home models have changed the way Classic espresso is made
Have questions? E-mail inquiries. sales@partsguru.com
Best Values
Related Items