Saeco AuLika Top One Touch High Speed Espresso Machine
A New Star is Born.
Be the First to Own an AuLika Top One Touch High speed.
Saves 20 seconds to serve a Cappuccino. Made in Italy
Available in March 2017.
Original Saeco Pre 2006 design - Unrivalled performance - Plumb option
Large waste receptacles, Large water tank & Bean Hopper,
Ideal for use in Offices, Catering & Rentals

AuLika Top One Touch High speed model is the perfect combination of aesthetics & professional performance. It has a clean, rational design and unparalleled technology, double hydraulic circuit, conical blades, large water & Beans container. These characteristics make AuLika, perfect for high daily consumption locations.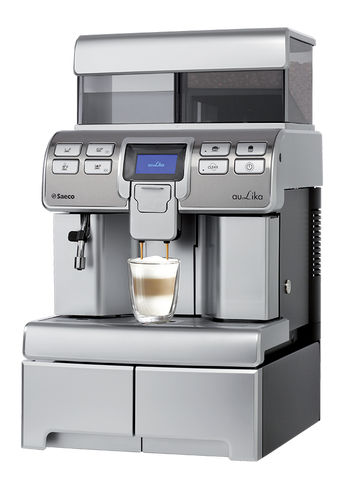 Saeco AuLika Top One Touch
All AuLika Top model delivers a wide range of coffee-based & fresh-milk-based beverages, as well as hot water & steam. The wide graphic display can manage both icons & text messages in several languages.
The interface has 8 selection keys help easy to program & operate the machine. CLICK HERE for presentation Video.

For Home, Offices, Corporate cafeteria, Rentals & Catering

Cleaning & maintenance activities, too, are made easier by the fact that all components requiring regular checks can be removed. The Aulika Top version is integrated by a base with extra capacity for grounds collection & can also be connected directly to the water supply.
Capacities:

1 kg coffee beans

4 liter water

1 liter drip tray




One-Touch cappuccino:

2 coffee cups simultaneously one after the other. Saves 20 seconds to deliver product in the cup.

Hot water / steam wand for automatic steaming milk


Double pump, double boiler

Integrated Pinless Wonder Cappuccinatore

Base for accessories & with extra capacity for coffee grounds 18 pucks

Water supply Plumbing connection option


Key locks

Steel conical blades - the best tool for uniform grind.
AULIKA TOP One Touch High Speed Home espresso
Own one & upgrade the level of coffee quality & convenience. Upgrade your used Jura, Breville, Delonghi or other machine that needs expensive repairs.