Saeco AuLika Top, O.T High Speed Espresso Machine
EVOLUTION BECOMES REVOLUTION
Aulika Top One Touch High speed Cappuccino machine
Ideal for high volume locations for 100 or more beverages per day

User friendly display screen - Easy to program

Easy to select Programmed beverage buttons
For Home, Office, Banks, Car dealership, Rental businesses, Car washes

3-years extended warranty with purchase of Beans
Easy to select pre-programmed beverage buttons
SMILE WITH EVERY CUP OF COFFEE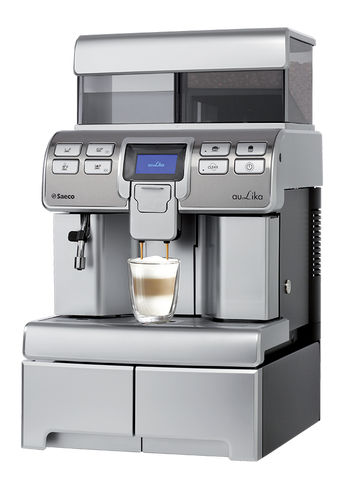 Saeco innovation in a winning combination
Removable & washable Brew group

Patented Pinless Cappuccinatore Wonder
Two Stainlless boilers & two pumps, two flowmweters for speed of delivery

Conical Burr grinder
1300 Watts power consumption
Dimensions: 13.5"W x 23"H x 18"D. 49-lb weight

High speed Cappuccino delivery - saves 20 seconds
Capacity: Used coffee bin 40-pucks, Water tank (4 liter) & One Kilo Bean Hopper,
Easy to Operate & Maintain

CLICK HERE to watch Demo Video
AuLika Top One Touch High speed model is the perfect combination of aesthetics & professional performance. It has a clean, rational design and unparalleled technology, double hydraulic circuit, conical blades, large water & Beans container. These characteristics make AuLika, perfect for high daily consumption locations.
Dispenses the following programmed coffee products at the push of a button.

ESPRESSO - LONG COFFEE - AMERICAN COFFEE - CAPPUCCINO - LATTE MACCHIATO - WHITE MILK
All AuLika Top model delivers a wide range of coffee-based & fresh-milk-based beverages, as well as hot water & steam. The wide graphic display can manage both icons & text messages in several languages.
The interface has 8 selection keys help easy to program & operate the machine. CLICK HERE for presentation Video.
For Home, Offices, Corporate cafeteria, Rentals & Catering

Cleaning & maintenance activities, too, are made easier by the fact that all components requiring regular checks can be removed. The Aulika Top version is integrated by a base with extra capacity for grounds collection & can also be connected directly to the water supply.
Main Features:

1 kg coffee beans

4 liter water

1 liter drip tray




One-Touch cappuccino:

2 coffee cups simultaneously one after the other. Saves 20 seconds to deliver product in the cup.

Hot water / steam wand for automatic steaming milk


Double pump, double boiler

Integrated Pinless Wonder Cappuccinatore

Base for accessories & with extra capacity for coffee grounds 18 pucks

Water supply Plumbing connection option


Key locks

Steel conical blades - the best tool for uniform grind.