Saeco Phedra Twin-Taste-Technology Office Coffee machine
Saeco Phedra EvO 120V Twin-Taste-Technology vending machine that uses Saeco patented brew group to serve fresh Bean to cup espresso, small or large Long American coffee. Phedra also has three additional containers for dry mixes. These containers can be filled with dry milk powder, Chocolate powder and preground coffee powder. A combination of dry mix will dispense8 different beverages at the touch of beverage selection. The product can be pre-programmed to dispense coffee beverages at the push of a button.
RARE OPPORTUNITY. PRICE REDUCED FOR SALE. Only One piece left.

This small vending machine is good for self service impulse buying in Large & Small office Coffee service., waiting rooms in Hospitals & more. This model is foor Self service use and if locations can be found for Phedra TTT is a completely automatic table-top machine of the convenience generation with design and technical performance at the top of the range. It is equipped with the new Saeco TTT TwinTasteTech brewing unit that allows the dispensing of both paperless fresh brew coffee and espresso coffee without any software or mechanical presetting. The product can be selected by simply pressing a button on the direct access keypad.
Designed for small and medium locations, it is available with cabinet in two versions, standard dispensing up to 8 different beverages.
8 direct selections. Refills after195 servings.

4 + 1 ground coffee


Espresso brewing unit TTT

standard operation

Ideal for use in Offices, Select the machine with choice to dispense small or large espresso, Cappuccino & Latte with powdered milk, choice of American coffee or preground coffee.
More information is available for use of Phedra in offices or car dealerships, Car Wash, Banks, Super markets, Rental places, Large businesses with over 50 staff, Theaters, for use in booths at trade shows to engage conversation with visitors.
DESCRIPTION
HIGHLIGHTS

SPECIFICATIONS

IMAGES

TECHNICAL SHEET
Product type Espresso from coffee bean, Fresh brew and instant products
Technology Fully automatic machine: Automatic dispensing of cups, sugar and stirrers
Advised for Small locations - Offices
Cups (h 70 mm) 196
Stirrers 180
Number of selections 8
Number of preselections 4
---
Coffee bean container 1
Ground coffee containar 1
Instant product container 2
Sugar container 1
Number of Grinders 1
Disc mixer 2
Water supply standard: standard: water supply optional: independent water tank kit
---
Display 2-line, 20-character alphanumeric display
Keyboard Direct access 8-button keypad for beverage selection
---
Power supply 230 V / 50 HZ
Power consumption 1250 W
Dimensions (w x h x d) 458 x 757 x 537 mm
Weight 46 kg
Independent water tank 20 l (kit)
Boiler Brass
Coffee Group Saeco TTT TwinTasteTech brewing unit
Brewing unit 10 gr
---
For coffees you'd get in Italy, choose coffee makers from

Exclusive espresso machines imported by the Guru
Lirika Plus Bean to cup espresso machine

Gamea Revo espresso machine with Touch screen
Saeco Royal One Touch Cappuccino
& Office Coffee machines

Unparalleled quality & Performance,
Removable & washable Brew group
Easy to maintain- One year warranty
Gamea Revo LirikaPlus Royal One Touch AULIKA Office
Click image of any model above & watch Demo video

CLICK HERE for details on the machines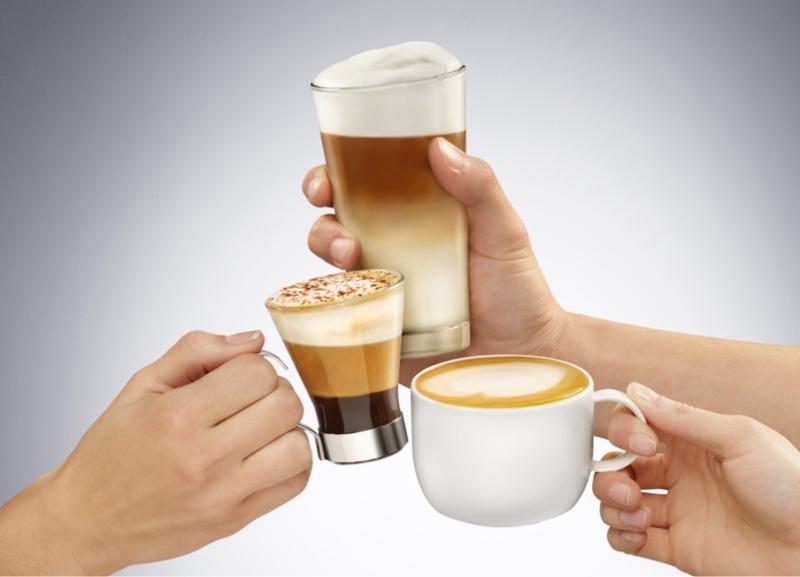 Cheers For Coffees like you'd get in Italy

Machines with solid performance, cup after cup all day long

EVOLUTION BECAME REVOLUTION
LIMITLESS CREATIVITY FOR YOUR DRINKS
. . . . . . . . . . . . . . . .
For good machine, you need better beans

50 50 BUZZ Espresso Beans
Fresh roasted - Kosher

16-OZ. BAGS - Order 3, Get one Bag Free
Four distinct Blends to choose from:
1- 50 50 BUZZ - 2- Espresso Bella - 3- Macho -& 4- Decaffienated beans
Date our beans today. Discover what you missed
Blend with 55% Arabica & 45% of finest Robusta Beans from Brazil & Costa Rica.
Experience Fresh Coffee Nirvana. Sooo good to say NO
EXTEND FRESHNESS FOR HOME USE, PREVENT CONTACT WITH AIR & MOISTURE
PORTION BEANS FOR ONE DAY'S USE IN ZIP LOCK BAGS
STORE ZIP LOCK BAGS ANYWHERE - NEVER IN A REFRIGERATOR.
MEDIUM ROAST BEANS PREVENT CLOGGING OF THE GRINDER
DARK OILY ROAST BEANS ARE GOOD FOR COFFEE SHOPS
BECAUSE MULTIPLE BAGS ARE USED IN ONE DAY.
Have questions? E-mail inquiries. sales@partsguru.com